Posted by
MacTechGenius
on Jun 29, 2014 in
Reviews
|
1 comment
You have the latest and greatest digital camera with thousands of features, yet you still need to connect it onto your computer to import your media. Wouldn't it be great if these images and videos could automatically import/upload onto your computer and social networks. The Eye-Fi Pro X2 is a class 10 memory card that allows wireless transfers of pictures and videos!
Several of the many features on the Eye-Fi memory card consists of:
Upload anywhere: users can instantly upload images to their home computer, smartphone or tablet, either connecting wirelessly to the device with Direct Mode or over an authorized WiFi network

Shoot forever with endless memory mode: Cards can be set to automatically free-up space after photos & videos are transferred, so photographers never have to worry about running out of space

Transfer RAW files: as with the prior Pro X2, the highest resolution photos can transfer wirelessly

Back-up automatically: Pictures are safely stored on a home computer or Eye-Fi's cloud, Eye-Fi View – a great relief if the camera is lost or stolen

Share in real-time: Card can be set to automatically share with selected social networks or photo sharing sites (Facebook, Flickr, etc.)

Geotag pictures immediately: Eye-Fi's auto WPS Geotagging feature tags photos, allowing users to instantly see where memories were made

Eye-Fi does a great job with their simple "Apple-Like" packaging. They also include a USB card reader which is only required for the initial setup.

The initial setup was a breeze to follow using the included Eye-Fi Software, our Eye-Fi setup is simple yet functional and productive. When a photo/video is taken, it is uploaded onto our computer and our NAS using FTP.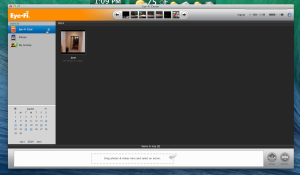 All aspects of the Pro X2 can be accessed using Eye-Fi Center. The photos/videos are automatically organized based on date. With relay transfer your computer and camera do not have to stay on at the same time. It is as simple as turning on your camera and place it next to a router/access point. Without a computer, the Eye-Fi can automatically upload your media onto your social network or a FTP sever. However, you can also configure Eye-Fi to automatically download and organize your media onto your computer.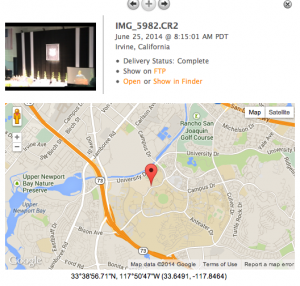 One of my favorite feature is the location tagging. The Eye-Fi uses WPS (Wi-Fi Positioning System) to add the location onto photos/videos. This works well in cities and urban areas.
Overall the Eye-Fi Pro X2 is a simple yet professional product and includes other amazing features such as direct access and endless memory which we will provide updates on.
Video Review:
Amazon:
Advertisements
One Response to "Eye‑Fi Pro X2 Review"